No Technical Installation - Ready in One Step
Simply Plug the 2G Hub into an Electrical or USB Socket and Data is Automatically and Instantly Transmitted to your Cloud Platform in Real-Time.
Plug It ! It's Ready !
Sensolabo® data loggers are automatically activated once you plug the 2G hub into a power, USB or lighter socket. Data are continuously uploaded to secured servers.
Setup Alarms
Manage for each of your data logger an alarm threshold level to be immediately alerted by email or SMS (In option) in case of temperature or humidity excursion.
Take Your Time to Check
The 21 CFR part 11 compliant Cloud Space, accessible from your web browser on a 24/7/365 basis, allows visualization and export of all data (Graphs, PDF, Excel Files).
For Buildings, Warehouses, Cold Rooms and Vehicles
All Recorders Placed in your Buildings or Vehicles and Near a 2G Hub (Max.700 meters), Automatically Transmit Their Data in Real Time. When a New Recorder Enters the Area of a 2G Hub, it automatically transmits its Memory Content to your Cloud Platform. Ideal for your Milk Run Delieveries!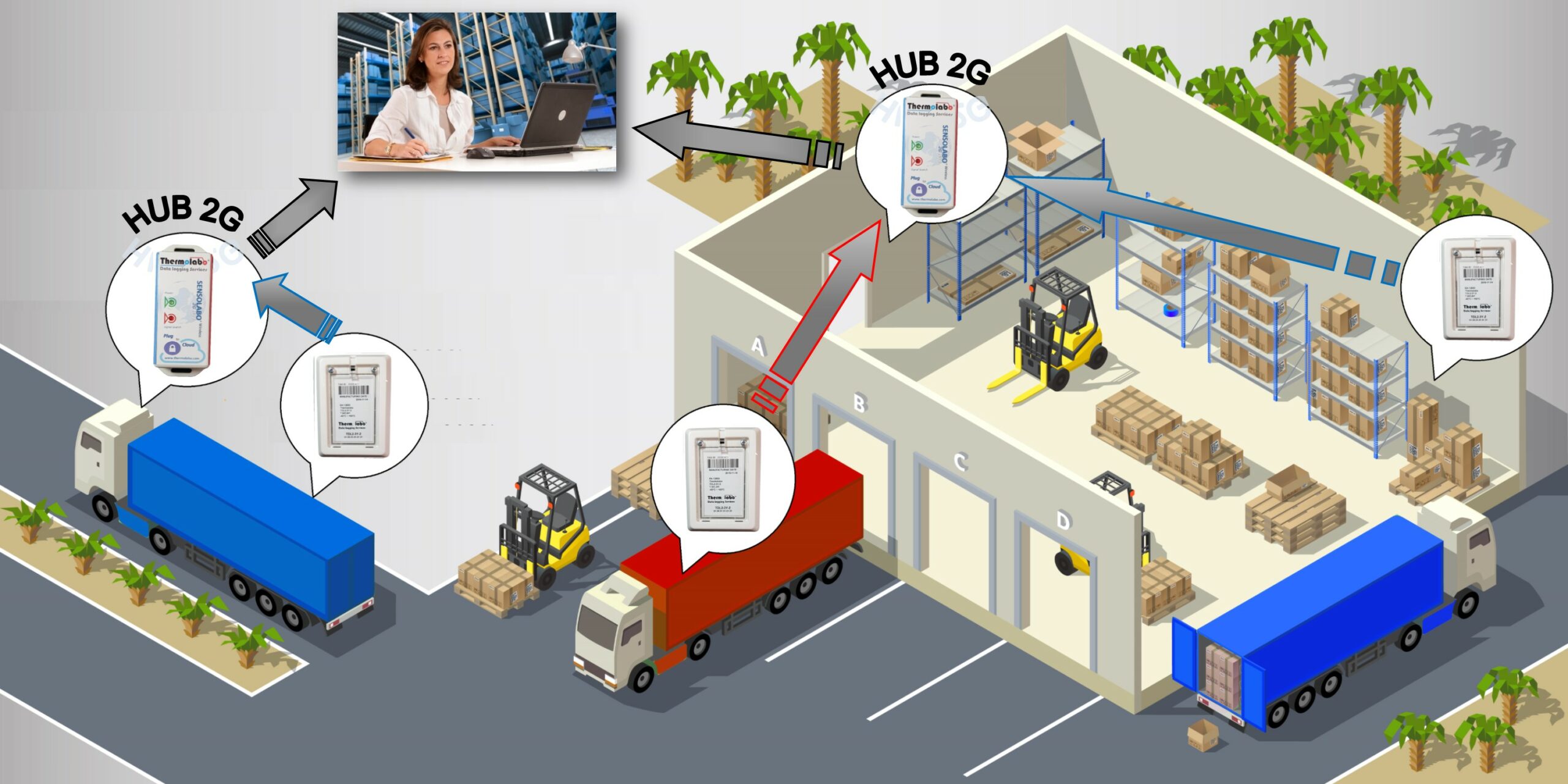 Technical Specifications
Sensolabo® Wireless RF is Available in Temperature Only or Temperature + Humidity Versions

| | |
| --- | --- |
| Temp Range | -40°C to +60°C (-40°F to +140°F) |
| Measurement Interval | 10 Sec. to 2 Hours |
| Memory Capacity | 5 000 measurements (Readable via NFC) or 2 X 40 measurements (Auto Upload In Option) |
| Shelf Life | 2 Years |
| Resolution | 0.1°C (0.2°F) |
| Accuracy between 0°C and 30°C | +- 0.2°C (0.4°F) +- 0.4°C On the rest of the range |
| Logger Dimensions (mm) | 100 x 71 x 14 |
| 2G Hub Dimensions (mm) | 97 x 40 x 20 |
| Logger Weight | 54g |
| Protection Class | IP64 |
| Communication | Internal (EU or Int) Prepaid SIM Card Included |
| Free Range | 700 Meters |
Real-time Monitoring from a Desktop PC or a Smartphone
In the Cab of a Vehicle, in your Warehouse, or Anywhere Else, You Can Monitor Your Recorders in Real Time Using the Mobile Application (Android + IOS).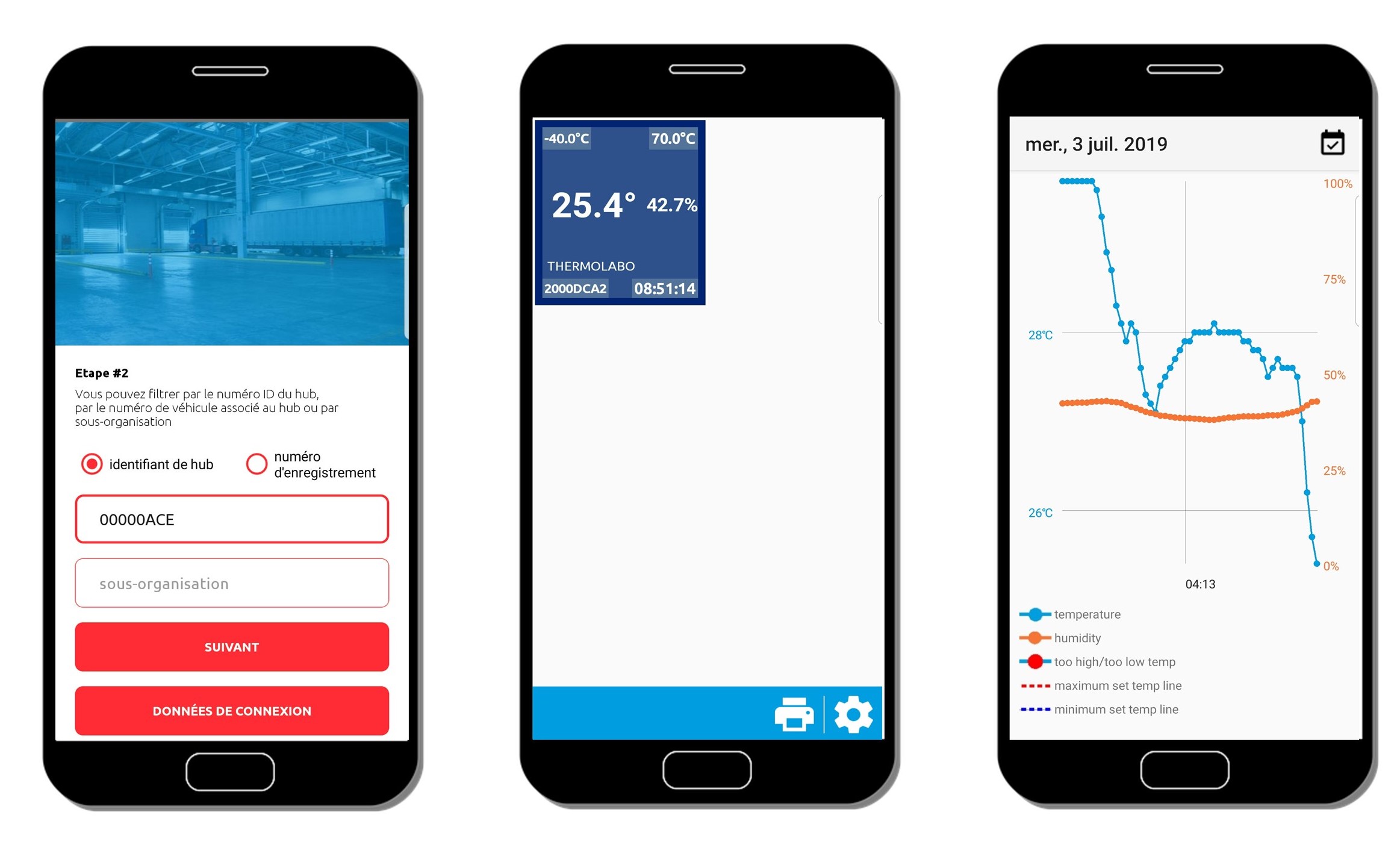 Your Cloud Platform
Serenely and at Any Time, You Can View and Export Temperature Graphs, Data (PDF, Excel). Manage Users, Set Alert Thresholds ... All Your Data is Stored on Secured Servers.
Access Your Secured Cloud Platform