Contactless = No Constraints
With One Movement, Thanks to Sensolabo® it is now Possible to Read, Send and Instantly Store your Traceability Data Without any User Effort and Without Any Technical Installation.
Sensolabo® is activated in 5 seconds by pressing the Start button. A green LED indicates the correct operation. Sensolabo® can also be set manually to add a pharmaceutical batch number or its position in a cold room ...
Once received or during transit, when approaching an enabled reader, the temperature information is automatically made available AND instantly upload to your secure Cloud Space without any effort from the user.
At each reading or only in case of anomaly, the temperature graph is instantly sent to the relevant users. The Cloud Space, accessible on a 24/7/365 basis, allows visualization and export of all data (Graphs, PDF, CSV, Geolocation).
Contactless = Simple, Efficient and Universal
Simply come near with an enabled compatible Sensolabo® reader to automatically AND instantly trigger data tranfer and process. At each reading, you are immediately informed by email!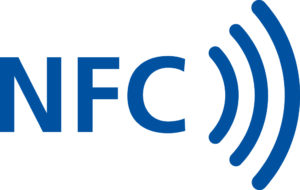 Ultra secure, Near Field Communication (NFC) technology is used for all your contactless payments.
NFC is already embedded in most smartphones, tablets and professional logistic terminals.
It can also be implemented on any computer with a simple NFC reader.
There are already more than 3 billion devices enabled to read Sensolabo® in the world. This is the assurance of being able to read Sensolabo® anywhere in the world.
There are many benefits in using NFC technology over Bluetooth. Speed of data transmission, energy autonomy, data security...
It is a passive technology that does not emit radio waves.
Sensolabo® does not require any special authorization from airlines and does not need to be stopped during flights.
But its main advantage is the ease of use. No need to pair the logger with the reader or download an application beforehand.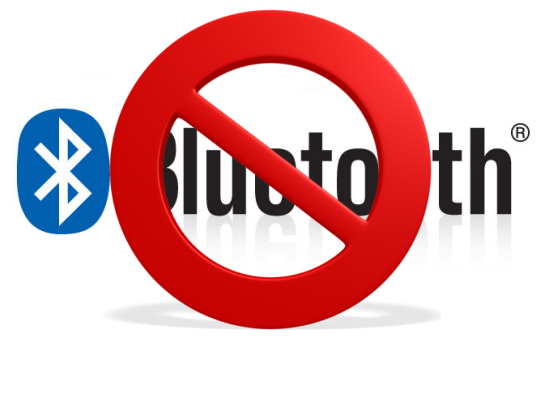 The Data Logger
Sensolabo® Gives Access to Unique Premium Features at this Price Level such as Geolocation, a Digitized Calibration Certificate and a Positioning Sticker ....
Available in Single Use or Reusable Version - Temperature or Temperature + Humidity
The Reading Application
The Android app appears automatically when approaching an enabled Sensolabo® reader. No need to download it beforehand, no need for training, or long explanations, graphs and files are available to your recipient with one easy finger movement.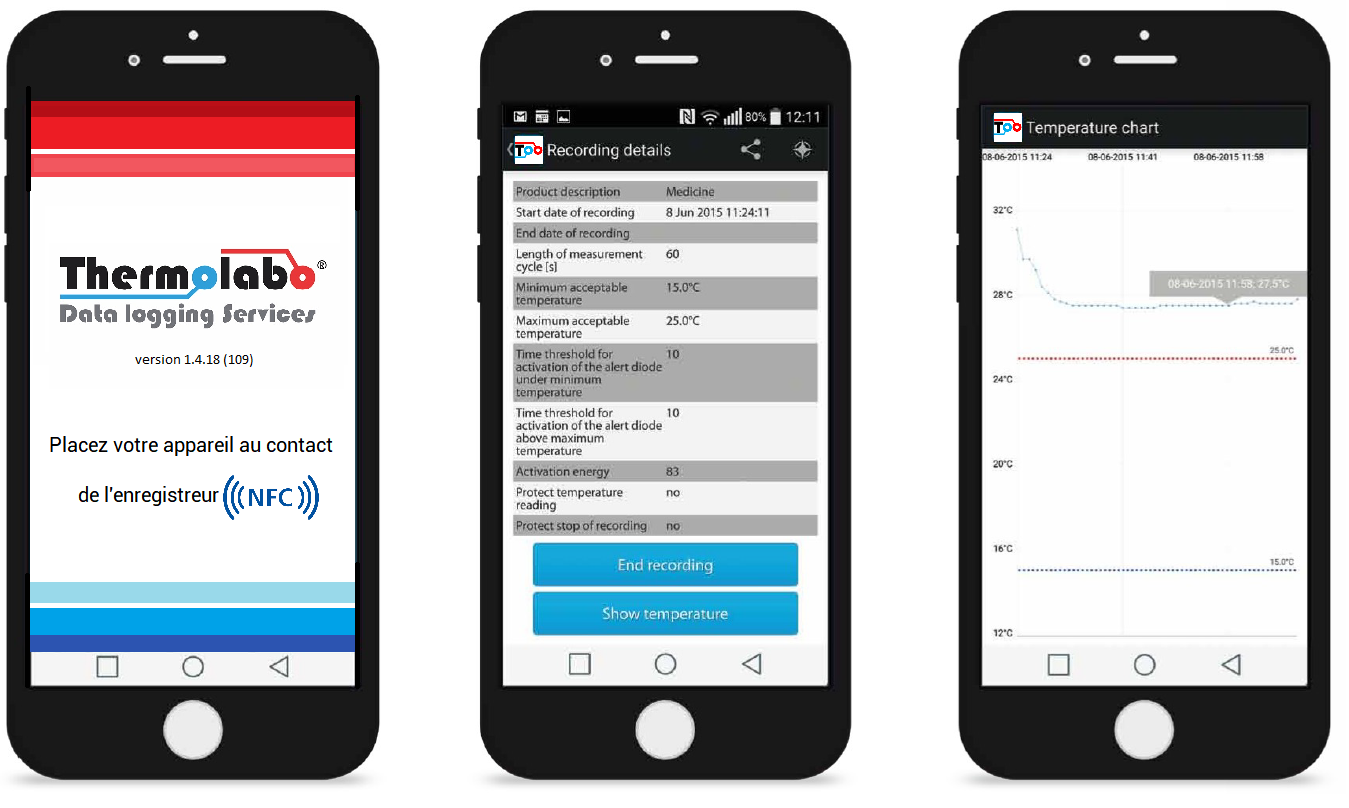 Your Cloud Space
Comfortably and at any time, you can view and export temperature graphs, data (PDF, CSV) and visualize the geolocation of each record. Manage users, set alert thresholds ... all your data are stored on secure servers.
Access Your Secure Cloud Space
Inspiring Business Cases
Storage, sea or air transport, distribution, ambient or controlled temperature, there are many ways to use Sensolabo®. You are looking to save time, strengthen your compliance, extend your export capabilities ... while reducing your costs? Here are some inspiring customers cases.
Inbound Logistics
A large generic laboratory entrusts its outsourced central warehouse with the reading of Sensolabo® for its flows from manufacturing plants. The qualified person and the logistics team, who are several hundred kilometers away, are automatically informed of each shipment and receive the temperature graphs instantly.
International Deliveries
A CDMO based in Eastern Europe ships thermosensitive products around the world and sometimes in remote areas or places with no computers. In order to guarantee perfect conformance and systematic feedback to his customer, the logistics team integrates Sensolabo® into each shipment after informing its recipients beforehand.
Refrigerated Transport
A refrigerated carrier specialized in pharmaceutical products deliveries wants to establish automatically for all its tours and each delivery a time stamped and geolocated temperature report. A few minutes were enough to install Sensolabo® at the rear of each of his vehicles and ask his drivers to make a contactless upload at each delivery.
Why Change For Sensolabo®?
Very easy to implement, Sensolabo® temperature and humidity monitoring solution opens up concrete perspectives to significantly improve your current traceability process.
| | USB Data logger | Sensolabo® |
| --- | --- | --- |
| Easy Start | | |
| No Subscription, No Monthly Fees | | |
| Data Format | PDF or CSV | PDF, Extended PDF, XLS, XLSX, CSV |
| Method and Duration of Data Processing | Manual / 5 Minutes | Automatic / 2 Seconds |
| Compliance / Data Integrity | | No Data Manipulation |
| Dynamic In Situ Data Analysis | The logger is moved to its reading point | |
| Automatic Data Transmission | Unsafe manual transmission | |
| Instantaneous and Customizable Email Alerts | | Alert threshold configurable for each user. |
| Remote Access & Secure Cloud Storage | | |
| Measurements Geolocation | | |
| Preservation of IT Systems Security | Data logger = USB removable media = Risk | |
| Waterproof (IP67) | | |
| EU Manufacturing | | |
| Calibration Certificat | Paper | Digital (Embedded + Available from Cloud) |
| Reading Possibilities | 800 Millions of Computers | 2 Billions of Smartphones + 800 Millions of Computers (With USB adapter) |
You Will Never Run Out of Solutions!
In addition to the many reading solutions already available (Smartphones, Tablets, Professional-Grade Readers ), you can also equip your desktop computer with a wired USB/NFC reader... or give your employees on the field a NFC Wifi and 2G / 3G portable terminal.